Family History
This is a page to collect together some publicly available information on some research I've done into my family history. This public information focuses on my paternal line. More extensive information, covering both sides of my family is here. However, this is password protected. Contact me if you want access. My database currently contains 700 individuals with 231 families.
---
Having traced back my paternal line, the extent of my research so far is shown in the following ancestor chart: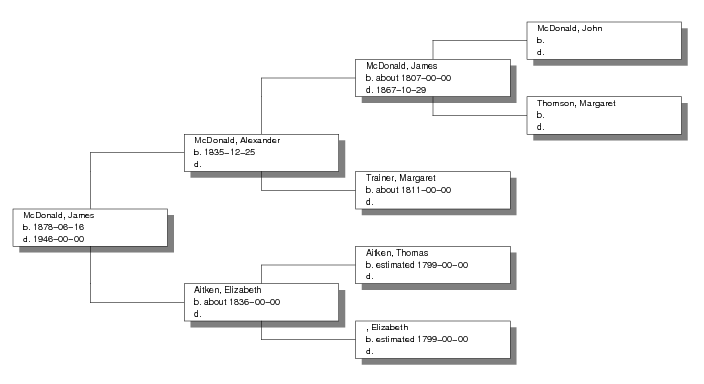 The James McDonald born about 1878 was my great-grandfather. His parents, Alexander and Elizabeth were married in Glasgow on 22 April 1856 (source: Statutory Register of Marriages). Alexander's parents, James and Margaret were married on 14 June 1833, also in Glasgow (source: Old Parish Register).
James McDonald and Margaret Trainer were married by Duncan Macfarlan 'one of the Ministers of Glasgow', as were Alexander McDonald and Elizabeth Aitken. The latter were married in the College Church. The Very Reverend Duncan Macfarlane (1771-1857) was a minister at Glasgow Cathedral, Principal of the University of Glasgow (hence 'College Church'), and Moderator of the General Assembly of the Church of Scotland.
I have been trying to find out more about this James McDonald, and run into a bit of a mystery. But first, what I have found:
Born 1807 (based on age recorded in the 1841, 1851 and 1861 censuses and his death certificate).
Died 1867 of a cardiac arrest, following 3 months suffering from dropsy. He died a pauper in the Glasgow City Poorhouse.
His occupation is variously described as weaver, hand loom weaver or cotton weaver (according to censuses and his death certificate).
In the 1841 and 1851 censuses they lived at 67 Rottenrow, Glasgow (probably a tenement, since it contains a number of family groups). By 1861 they had moved to 3 Dean Street, Glasgow (also probably a tenement).
I think that James' parents, John McDonald and Margaret Thomson, were married on 23 December 1796 in Glasgow (source: Old Parish Register).
Now to the mystery: The 1851 and 1861 censuses list James McDonald's birthplace as "(Island of) Sicily. British Subject". I haven't yet been able to determine why his parents would have been in Sicily in 1807. One guess is an army connection. If such a connection exists, then my current conjecture is that the link is through the 2nd Battalion, 78th Highlanders who appear to have been in the area at the time. I'd be happy to hear from anyone with any information.
---
Miscellaneous notes on sources, etc: Useful on-line resources have included FreeBMD, FreeCEN, Ancestry and ScotlandsPeople. The latter has on-line access to Scottish census data, statutory registers of births, marriages and deaths, and old parish registers for birth, baptism and marriage information. The censuses and statutory records include images of the original data.
© 2006-2007 Andrew McDonald.